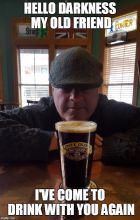 St Patrick's Day is fast approaching! The Lost Colony Brewery and Café in down town Manteo will once again host the O'Brothers with their unique brand of songs, humor and tales.
The show is Saturday the 16th of March. (We know St. Paddy's is the 17th but we have a parade to march in then) Our menu will take on a decidedly more Irish feel.
There will be a $10 cover and reservations are greatly encouraged.